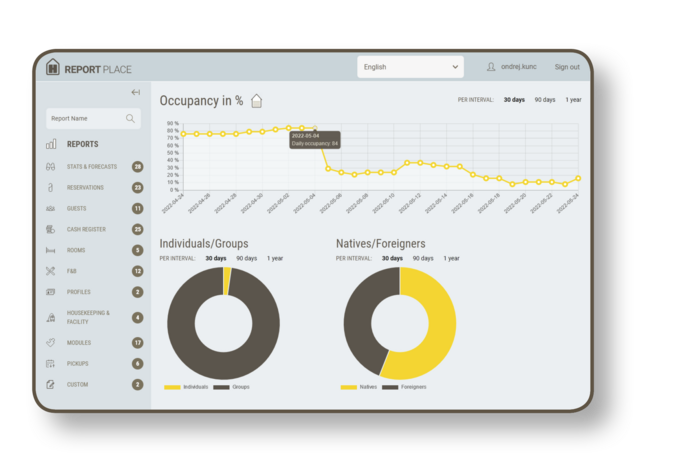 30.05.2022
HORES Report Place
In this article, we would like to introduce in more detail the key features of the new reporting system in HORES.
Access from anywhere
This system is integrated within the HORES window by default, but since it is built on HTML technology, it can be fully used in any current web browser. This means that you can use the system independently of the operating system (MacOS or Windows). However, the possibility of using it on any device is also important - in addition to a classic computer or laptop, you can also display ReportPlace on a tablet or phone. The environment on the phone is a bit cramped, but if you already have favorite reports defined within your profile, all you have to do is export them to the required format and view them on the phone. Therefore, the reports are also accessible from our web application.
Login
External access to reports must be enabled in HORES according to this manual (in czech, same as access to HORES WebApp), login is then possible using the same name and password as in HORES as such. Our special HORES Proxy application (in czech), which must be activated beforehand, takes care of securing access to HORES data. We also recommend updating HORES to the latest version.
Over 140 types of reports
When creating ReportPlace, we tried to maintain parity with the older system of reports, ie. each report already created has been transferred to PeportPlace. The name has been changed for a small number of reports. If you need to find your way around and find your old favorite report, contact our support or request a conversion table of old and new report names. In most cases, however, we believe that it will not be necessary, not least because ReportPlace offers a well-functioning search, which includes a handy whisperer. At the same time, the individual reports are - as before - divided into logical groups. Requests for new types of reports are processed only in ReportPlace. For greater clarity, each report now has its own number. Some more complex reports have an explanatory description that appears when you click the "i" icon at the top right of the screen.
Export options
By default, each report is processed and clearly formatted as an HTML page, which is sufficient as a personal default overview of the required data. However, if we want to share the report, we have the option to export any report as a standard PDF file and then work with it (share, print, etc.). We also offer the possibility of direct printing and export of "open" data in CSV format to spreadsheets such as Excel, OpenOffice, Google sheets. Not every report is processed for CSV export, but just write to our support and we will prepare a report for this type of format.
My favorites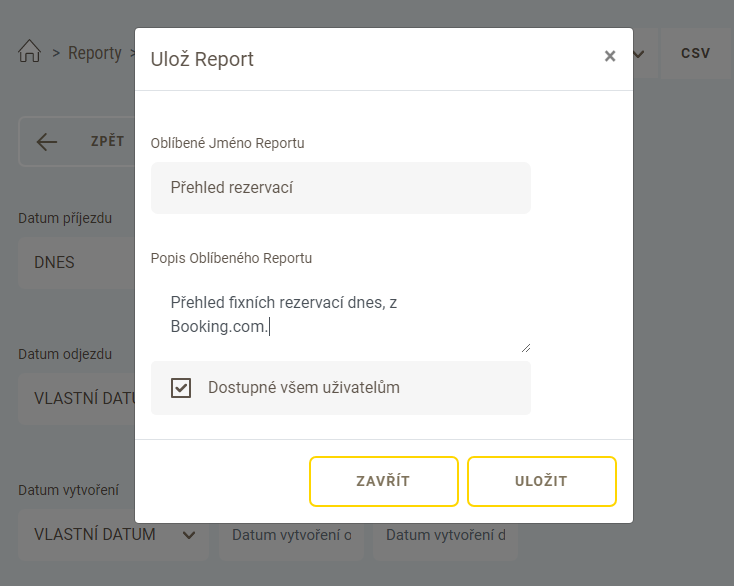 Within the system, it is possible to define favorite reports, which will be displayed either only to me or will be available to other users in HORES, ie. across the hotel. The manager, or another experienced employee, can define the most frequently used reports in the hotel, including rich settings. The staff does not have to click through the report settings every time, but only the saved favorite report is generated, including its detailed settings.
Language mutations
In addition to Czech, the entire system is also available in English and Slovak. The language setting is governed by the language setting in HORES. You can change the language setting at any time when accessing through the browser. You can also influence the export language of a specific report, so you can, for example, generate a PDF report in English in the Czech environment.
We hope you enjoy the new ReportPlace and begin to take full advantage of it. In addition to those already mentioned, it is worth noting that compared to the older system, it has lower requirements for computer performance, which will be appreciated especially by operations with older hardware.
HORES ReportPlace is available to all users for free. We recommend requesting the latest HORES update. You will learn how to turn on the system in a short article (in czech) on our support portal. Then all you have to do is generate more and more beautiful reports :-)
Mohlo by Vás zajímat: